Balboa Park - San Diego, California
Balboa Park
Passport to Balboa Park plus San Diego Zoo Admission

(Sponsored Link)


Passport to Balboa Park, San Diego's best cultural value, offers visitors the chance to experience 13 museums in the Park. This Zoo/Passport Combo includes the Passport to Balboa Park plus one-day Deluxe admission to the Zoo for both adults and kids, which includes admission, guided bus tour and Skyfari aerial tram.
Where is that Big Park in San Diego? Balboa Park Interactive Map.

The original park itself was completed in 1910, and named after the Spanish explorer who first saw the Pacific Ocean. It was the 1915 Panama-California Exposition however that truly gave the park its character with the choice of a "Spanish" type of architecture for the Fair buildings.

What we wound up with however, was an eclectic mix of Spanish Colonial Renaissance with Gothic & Moorish influence, and the borrowed styles of baroque and rococo.
You may not be able to put your finger on exactly what the style is,
but it is San Diego!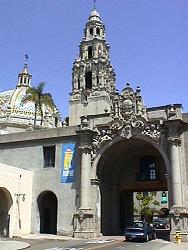 The West Gate provides a spectacular entry to the park. Traveling from downtown San Diego over the Cabrillo Bridge, gives the impression of entering an old-world Spanish city.
The theme of the West Gate is the joining of the Atlantic and Pacific Oceans by the Panama Canal in 1915.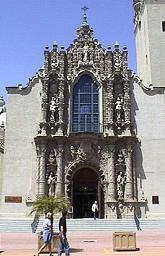 The Building to the left of the West Gate houses the Museum of Man. (Sponsored Link)
Inside you will find exhibits chronicling the origins of man from the earliest prehistoric periods.
A special emphasis of the museum is on North and South American Native cultures. Fine examples of many types of ceramic, basket and fabric arts are well displayed.
For the more adventurous, early weapons from many early cultures can also be seen.
View and buy tickets to the world famous San Diego Zoo (Sponsored Link) located in Balboa Park.
search for a nearby hotel, (Sponsored Link)
or find San Diego Tours or San Diego Events
San Diego Map
® GoThere Corporation