Balboa Park - San Diego, California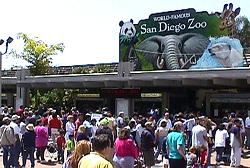 The San Diego Zoo (Sponsored Link) remains the most popular single attraction in Balboa Park. Once just a collection of caged wild animals exhibited at the 1915 Panama-California Exposition, the zoo has grown to over 100 acres and become one of the world's finest zoological gardens with over 400 species of animals.
Not only animals, the zoo is also a botanical garden, with more different plant species on exhibit than different animal species.
Included in the zoo is a Children's' Zoo for up-close viewing, and a Skyfari for an over head view of things. Several open air theatres present animal related shows. Snack bars abound, and there is a gourmet restaurant in the trees.
Buy discount zoo tour tickets here. (Sponsored Link)
Hotel pickup and return from San Diego hotels included in tour package
Travel in luxurious air conditioned comfortable motor coaches, each equipped with a knowledgeable driver/guide to make your tour fun and educational
Zoo admission included, no need to wait in line or deal with the hassle of parking on your own. Let us take care of all the work you just get to have fun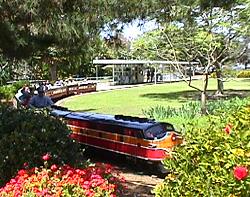 Near the entrance to the zoo is an all-time San Diego favorite: the little train that runs in a great circle around one end of the park.
It never fails to come back, and it never fails to please....except those cranky adults that have forgotten how to enjoy mixing a little make believe with their reality.
And for pure reality-based make believe, nothing beats the carousel. Maybe that's why people call them merry-go-rounds.
This one was built in 1910 but didn't come to Balboa Park until about 1924.
If you are still looking for the brass ring in life, try your hand at catching the brass ring here.... good for a free ride.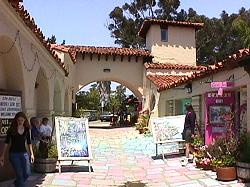 Spanish Village Art Center (Sponsored Link) was established in 1935. It is free and open every day from 11-4.
Here you can explore the studio galleries and select art directly from the artists. You can see artists at work, but beware: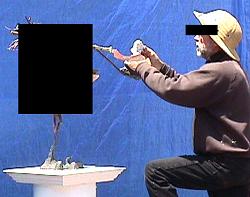 SOME of the artists are REAL touchy about photos. They don't want their photo taken, nor do they want you to "steal" their good ideas by taking photos of their work.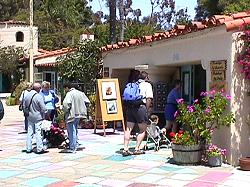 But come on down anyway, it's close to the zoo entrance, and they have a wide selection of enamels, jewelry, pottery, paintings, glass, sculpture, wood carving, gems and minerals.
Every year Balboa Park hosts Christmas on the Prado, with lights, music and good food. The museums are open along with the Art Center. A great time to find that unique gift!

search for a nearby hotel, (Sponsored Link)
or find San Diego Tours or San Diego Events
San Diego Map
® GoThere Corporation