Balboa Park - San Diego, California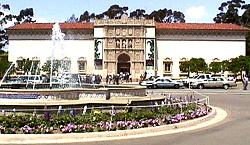 San Diego Museum of Art (Sponsored Link) opened in 1926, and is only one of several art museums in the Park.
Famous painters of the Spanish Renaissance are carved in bas relief on the front of the building: Ribera, Velasquez, Murillo, Zurbaran and El Greco. All are represented in the collection which also includes an extensive Eastern Art exhibit.
There is usually a traveling art show being presented at any given time, giving the visitor the opportunity to see works seldom seen otherwise.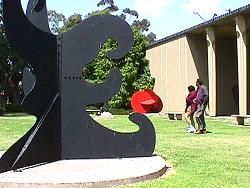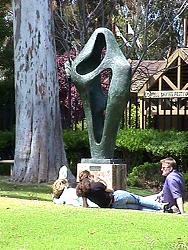 The Mary S. Marcy Sculpture Court and Garden opened in 1972.
Most of what you will find here are large works of art that are on permanent display.
The setting provides a quiet retreat from the rest of the park, and an excellent cafe, serving real food and drink, adjoins the courtyard.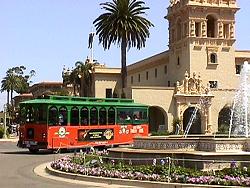 The TIMKEN MUSEUM OF ART (Sponsored Link) preserves the Putnam Collection of European and American art for the education and benefit of present and future generations of San Diego area residents and visitors. The museum celebrates the important role of art as a way of enriching the lives and nurturing the creative spirit in all of us. See Balboa Park on the Old Town Trolley Tour (Sponsored Link) bus.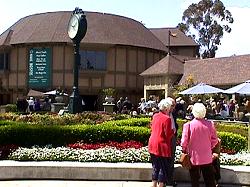 Perhaps one of the best known theatres on the west coast is the Old Globe Theatre (Sponsored Link) in Balboa Park. The main stage is set along the same floor plan as Shakespeare's Stratford-on-Avon; two additional stages were later added: one in-the-round, and one outdoor stage.
Both the main and the outdoor stages were rebuilt after two unrelated fires.
In the summer months a Shakespeare Festival is held, and year-round performances are staged, showcasing the best local and imported talent.
Across from the Old Globe you will find the Mingei International Museum San Diego. Mingei means "art of the people." Here you will find folk art, crafts and designs in daily use from all eras and cultures of the world. This is a state of the art gallery also featuring many traveling exhibits.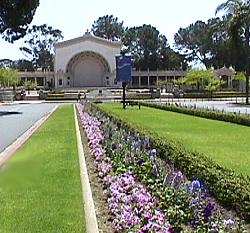 South of the Plaza de Panama is the Spreckels Organ and the Organ Pavilion. Yes, this is the same Spreckles that brought you your last bag-o-sugar...at least it was in 1915 when John D. and Adolph B. Spreckels gave this organ to the people of San Diego.
Behind a 12 ton steel curtain are a keyboard console and the 3,500 pipes of this mighty organ, the largest remaining outdoor organ in the world.
Free organ concerts are given every Sunday, weather permitting, and during summer, performances under the stars!

search for a nearby hotel, (Sponsored Link)
or find San Diego Tours or San Diego Events
San Diego Map
® GoThere Corporation