Balboa Park - San Diego, California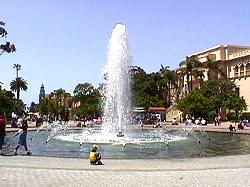 The fountain in the Plaza de Balboa shoots a column of water up to 60 feet in the air, depending on the wind conditions.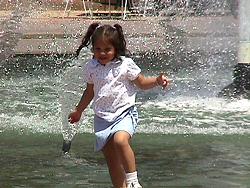 In the summer months, the fountain is a favorite gathering place for young and old. Wading is not strictly discouraged so take off your shoes!
The main roadway that runs through the park is El Prado, & goes from the West Gate to this plaza. Most of the road is now restricted to pedestrian traffic, which make walking through the park much more enjoyable. At this end of the park you will find: Reuben H. Fleet Science Center, Museum of San Diego History, San Diego Model Railroad Museum and San Diego Natural History Museum.
Just to the east of this plaza, over a short foot bridge are two very distinctive gardens.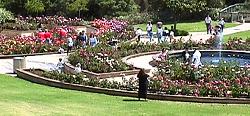 One is a group of rose gardens, and the other contains a wide variety of native and desert vegetation.
Because of San Diego's moderate climate, each garden always has something different to offer in each season. Certain roses may be found during most of the year, with the most spectacular displays in the warmer months. The rose gardens are a popular setting for outdoor weddings.

Desert plants produce a surprisingly abundant variety of flowers.
Each spring, many San Diegans drive east out to the Anza-Borrego Desert to view the wild flowers. Most will drive right past this local display right in their own backyard. While easily accessible, the exhibit is not readily seen from the road.

search for a nearby hotel, (Sponsored Link)
or find San Diego Tours or San Diego Events
San Diego Map
® GoThere Corporation