Balboa Park - San Diego, California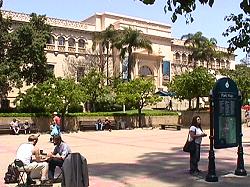 The Natural History Museum (Sponsored Link) building, like several others in Balboa Park was rebuilt after fire destroyed the original. This building was rebuilt in 1925.
The displays concentrate on the natural environment of the southwest, from the shoreline to the local mountains and deserts.
You will find examples of minerals, trees, flowers and animals. Displays show sea animals, mammals and birds in their native habitats. You will not get closer to any of these in any zoo.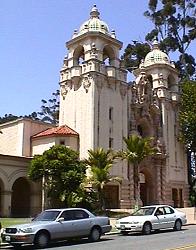 The Casa del Prado building was rebuilt a number of years ago, simply because the materials used in the original buildings was only meant to last through the life of the Panama-California Exhibition of 1915.
The unique architecture of the park was carefully recreated. This building is home for the San Diego Junior Theatre. (Sponsored Link)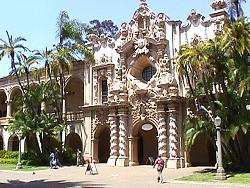 The Casa del Prado also serves as office and meeting rooms for many local groups. Various horticultural societies often have plant exhibits and sales in this building.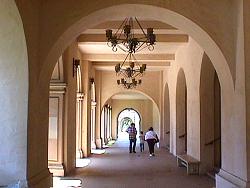 Under the arches of the building you can get out of the sun and occasional rain as you go from one museum or cafe to another. Here you will find San Diego Art Institute, (Sponsored Link) San Diego Historical Society Museum (Sponsored Link)
Reuben H. Fleet Science Center (Sponsored Link) With 100+ exhibits to touch, films on the world's first IMAX Dome Theater, and hours of fun to be had, the Reuben H. Fleet Science Center in Balboa Park is an entertaining experience for all ages. Create colored shadows, touch a tornado, examine the vibration of guitar strings and get your hands on a variety of intriguing scientific phenomena.
and San Diego Model Railroad Museum (Sponsored Link) and San Diego Hall of Champions Sports Museum (Sponsored Link) with 70,000 square feet of display space making this America's largest multi-sport museum celebrating San Diego sports stars Tony Gwynn, Ted Williams and Tony Hawk.
The architecture and the plantings create a feeling of been carried back in time and place, to old-world Europe.
Balboa Park is truly a walking park. Be prepared to take your time and enjoy the little things along the way.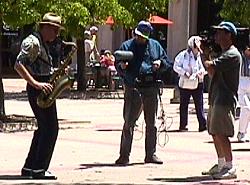 On weekends you are going to find any number of street performers. Some, like this saxophonist attract the attention of film & video crews from around the world.
In addition to musicians, you are likely to find a juggler or two, a slack rope walker, balloon artist and the ubiquitous mime.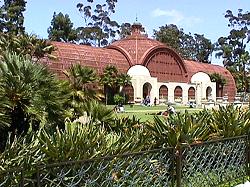 One of the more interesting of the dozen or so gardens in the park is housed in the Botanical Building. Originally designed to be a railroad station in another location, it was constructed here in 1915 with a lath exterior.
Inside are plants that grow best in the shade. You will find an outstanding collection of orchids. In front of the building is a lily pond with goldfish and brightly colored carp, or koi fish.
This is just one of the many, many places you can just sit on the grass and enjoy the warm sun and a picnic lunch.

search for a nearby hotel, (Sponsored Link)
or find San Diego Tours or San Diego Events
San Diego Map
® GoThere Corporation