San Diego welcomed back its favorite sons in a ticker tape parade down Broadway. Edward Balboa and Charles Lindbergh had safely returned from their historic flight to Paris.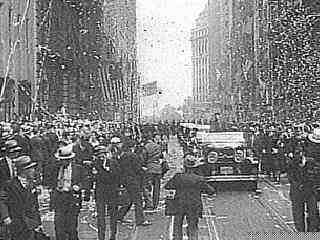 - Edward & Charles, The Double Eagles on Broadway -
Only a week before, Edward and Charles had taken off in their Navy PB-M Seaplane bound for Paris. Landing back in San Diego bay, the two were treated to a hero's' welcome. Included in the motorcade up Broadway, was Edward's grandfather Rocky, and Charles' parents Fred & Ethel.
The parade continued up to Balboa Park and into Balboa Stadium where the girls of OLP had spelled out a giant "WELCOME" with their bodies.
It was a bittersweet event for a grieving Edward who had just learned that his bride had been declared missing over the Pacific in her around the world flight attempt. Edward and Amelia had been married the day before each of them had taken off on their respective air adventures. An imposing bronze statue in Balboa Park commemorates San Diego's sweetheart aviatrix.