Rodriguez von Balboa got his nickname "Rocky" from his childhood business enterprise of selling decorative aquarium rocks door to door, but ships and shipping would forever be the Balboa family hallmark.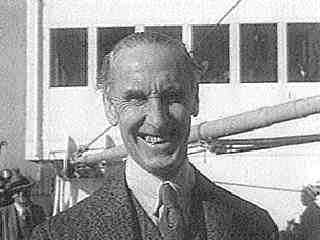 - Rocky on the deck of the Andrea-Doria -
The Balboa family discovered San Diego quite by accident, intending instead to arrive further north in Hollywood. With only carry-on luggage, the undaunted family carried on.
Rocky and his father turned a run-down anchovy-fishing pier into Balboa Shipyard where many fine vessels were constructed, including the Andrea-Doria. Rocky's love of ships and the sea even brought him close to president McKinley who shared many hours sailing together on the sailing yacht Balboa.
Rocky's eldest daughter Andrea early became interested in civic causes, founding the San Diego Hysterical Society and with her friend Grace Park, established San Diego's Balboa Park.
Rocky led a rich and full life. When he died in 1958 his family carried out his final request to have a Viking funeral. His body was covered by a Norwegian flag and placed on the deck of his beloved yacht Balboa. Following the traditional drinking rituals, the boat was set ablaze and pushed off to drift out to sea against the setting sun.