2. La Jolla California itinerary - hotels, things to see and do - sponsored links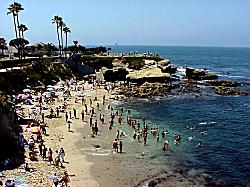 La Jolla is the Beverly Hills, Rodeo Drive and Malibu of San Diego. While the words "upscale" "expensive" and "exclusive" come to mind when you first visit La Jolla, there are many things to see and do for every budget.
How about free? How about the beach?
To the south there is the excellent Tourmaline Surfing Park. Everyone is welcome on the beach but if you plan to take a surfboard you may want to consider going with a local. Further to the north is Windansea Beach (short for wind and sea). The shore break makes it tricky for both swimmers and experienced surfers but it is a great place for scuba diving. This is the beach made famous in Tom Wolfe's book of essays, The Pump House Gang. The Children's Pool is mostly off limits to human children and adults. California Seals and Sea Lions have taken over the shoreline and are protected. Look, but don't get too close, and don't go into the water here. Up the street is the La Jolla Cove (pictured above) right in the heart of the central business district. There are few more picturesque ocean spots in San Diego. You can picnic, lay on the beach, wade and swim with the fishes. From here you can see the miles-long white sandy beach of La Jolla Shores. Located nearby is the Birch Aquarium and beyond that, the swimsuit optional and almost inaccessible Black's Beach.
Window shopping is free. La Jolla is rich with art galleries, antique shops, jewelry and clothing stores. Let your pocketbook be your guide. For a small fee, the Museum of Contemporary Art is sure to astound. My first visit there featured a (then) relatively unknown Andy Warhol. Who woulda thunk giant tomato soup cans would be such a hit? Discover new artists whom you can look back on and say "I knew them when...."
There are some pretty good outdoor things to do in La Jolla with the help of local tour operators: hike, bike, scuba, kayak, snorkel and surf lessons.
There really is only one place for a La Jolla style breakfast: The Cottage. The country style stuffed French toast with strawberry compote and Marscarpone cheese is a heavenly bargain at just under $10. A proper La Jolla lunch demands a view table for grilled fresh fish tacos on the Ocean Terrace at George's at the Cove. This is life at its best and no one will know that you didn't leave a Ferrari with the valet. Given all the superb fine dining spots in La Jolla, it is still easy to narrow it down to just one you must visit once in your life, the Marine Room on the beach at the La Jolla Beach and Tennis Club. Start with the Signature Main Lobster Bisque; dive into the Sesame Peppered Ruby Red Ahi Tuna; finish with the Royal Kahana Crème Brûlée and a glass of Ferreira, Duque de Braganca, 20 Year Tawny Port. When the tide is high and the waves are up the Pacific Ocean actually splashes up on the windows next to your table. When it is not too windy and they roll back a portion of the roof you get the full effect of the sound of the ocean.
Discount La Jolla Tours - Map of La Jolla - Photo tour of La Jolla Beaches
La Jolla Hotels
Book online or call 1-800-632-3303 to speak with a travel expert.
Budget Hotel:
More Upscale Hotel:
| | |
| --- | --- |
| | La Jolla Beach & Tennis Club is located right on the edge of the Pacific Ocean along a private white sandy beach. Choose from one, two and three bedroom suites. Along with championship tennis, there is a par-3 golf course onsite. No only do they have the first class Club Dining Room, they also feature a new Shores Restaurant & Bar serving Certified Angus Beef entrees. Wait, it gets better. The Marine Room with windows right on the surf line has earned more dining stars, diamonds and thumbs up than any other eatery in San Diego. Dress for success! More Hotel Info · Map |
Truly Unique Hotel:
| | |
| --- | --- |
| | La Valencia Hotel is known as the Jewel of La Jolla. This is where the movie stars came to stay, and still do. This hotel exudes class and Spanish old world elegance. Most of the rooms have commanding views of La Jolla Cove and the blue Pacific beyond. Walk to nearby shops and restaurants or stay in and sample the offerings in the Sky Room, the Whaling Bar & Grill or the Mediterranean Room & Tropical Patio. More Hotel Info · Map |
---
Mostly all-day things to do in San Diego:
Mostly half-day things to do in San Diego:
©
™ GoThere Corporation