2. San Diego Harbor itinerary - hotels, things to see and do - sponsored links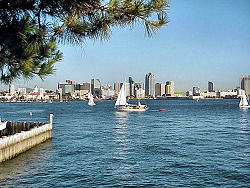 The harbor in San Diego has been attracting visitors for 500 years. Deep and wide, it provides today's visitor a place to relax and enjoy life. Waterfront hotels, restaurants and parks give sunny San Diego a world-wide reputation as "America's Finest City." The entire bay extends around Coronado, Point Loma, and the South Bay cities of San Diego County.
For breakfast, if you don't want to take advantage of your hotel's free buffet, pop into downtown's Westin hotel Aroma Cafe for take out baked goods and coffee or sit down in their 400 West restaurant. When you are ready to see the sights, go visit the Maritime Museum of San Diego, one of the world's finest collections of historic ships. Where else can you board an 1863 iron sailing ship; the H.M.S. Surprise from the Academy Award winning film "Master and Commander" and a soviet-era Russian attack submarine?
Afterwards, take a leisurely lunch at a San Diego fresh seafood institution. I say that in a good way. For 60 years the Ghio family has brought us Anthony's Fish Grotto. Dine in with a view of the bay, or dine out on the deck with an excellent seafood basket and fries. This is the taste of Fisherman's Wharf in San Diego.
After lunch take one of the informative and relaxing Harbor Excursion tour boats. (If it is Sunday and you haven't had lunch, try the excellent Sunday Brunch Cruise.) These one and two hour harbor excursions on the bay will take you past Point Loma to see the Navy's atomic powered submarine fleet, past active aircraft carriers and under the Coronado Bridge for a tour of the Navy's mothball fleet.
If you haven't had enough of ships and the sea, walk a little farther south, past the cruise ship docks and BANG! you will see one of the biggest ships in the harbor: the retired US Navy aircraft carrier USS Midway. There are over 30 exhibits including flight simulators, restored vintage aircraft and access to the flight deck & hangar deck. Climb up to the "Island" Superstructure and feel what it must have been like to command the ship and its planes.
Getting close to sunset or dinner time? You are only steps away from the Fish Market restaurant. Since 1989, this waterfront landmark on the bay prepares some of the best seafood along with one of the best views of the bay. Downstairs is casual with oyster, sushi and cocktail bars (and a fresh fish counter, hence the name, if you are in the mood to cook). Upstairs will take care of your fine-dining needs.
Map of the area - Things to see and do
Hotels near San Diego Bay & Harbor side
Book online or call 1-800-632-3303 to speak with a travel expert.
Budget:
| | |
| --- | --- |
| | Holiday Inn on the Bay is across the street from the bay and with 14 stories in 3 towers you get balcony views of sunsets over the water to remember. From there you can easily walk to the Maritime Museum, USS Midway and great restaurants. You can rent bicycles and the hotel is pet friendly. More Hotel Info · Map · Packages Available! |
More Upscale:
| | |
| --- | --- |
| | Westin San Diego provides the San Diego skyline its distinctive look, especially at night. Located a few short blocks from the waterfront, the Westin offers great views in every direction. If you are planning a convention or business meeting, the Westin has all the amenities. More Hotel Info · Map · Packages Available! |
Truly Unique:
| | |
| --- | --- |
| | The US Grant is a bit further from the water's edge, but with the added walk you get an historic luxury hotel built in 1910 and completely renovated in 2006. History was made here daily as reporters and editors from the San Diego Union used to come to the Grant Grill & Lounge for lunch (and drinks) before the news deadline. The staff was always up to pleasing visiting heads of state and that tradition will not be lost on you today. One block from Horton Plaza shopping. More Hotel Info · Map |
---
Mostly all-day things to do in San Diego:
Mostly half-day things to do in San Diego:
©
™ GoThere Corporation