6. Mission Beach & Bay San Diego itinerary - hotels, things to see and do - sponsored links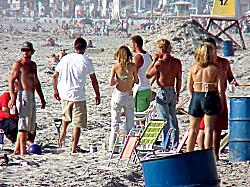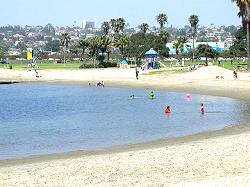 Mission Beach and Mission Bay are like two sides of the same coin, in this case separated by a peninsula and Mission Blvd.
If you want waves, high energy crowds and a view of the Pacific Ocean, go with Mission Beach. If you want to swim or raft in calmer waters, go Mission Bay.

One of the defining elements of Mission Beach is The Giant Dipper Roller Coaster in Belmont Park (map). Built in 1929 and restored in 1990 this 2,600 foot long wooden coaster is one of the few remaining in the world. Some years ago a local radio station contest had 5 people each ride 18,000 times over 70 days. Get an Unlimited Ride Wristband and see how many times you can ride it in one day.
Mission Bay on the other hand is home to Sea World San Diego (map). Right now through the end of 2009 you can get SeaWorld San Diego Single Day Tickets for adults at kid's price plus get a 2nd visit free! The most popular attraction is still Shamu, now with "Shamu Rocks," Shamu's newest nighttime show. For a few bucks more you can dine with Shamu. Plenty of other shows, rides and adventures are included with admission.

Probably the best restaurant in Mission Beach is 50-year old Saska's for steak, seafood & sushi. Tourists and locals come here for the quality food and relaxed atmosphere. My favorite is the Filet Oscar steak topped with snow crab meat with Bernaise sauce & asparagus. You have to love a place who's motto is "A day without wine is like a day without sunshine."
Red Marlin Restaurant Bar & Terrace (map) gives you the best Mission Bay front dining experience. Although it is located in the Hyatt Regency, it is a favorite with the locals who are not afraid to mingle with out-of-towners. Choose the open-air terrace with a friendly fire pits, both indoor and outdoor bars, several private dining rooms and the ultra-chic Red Marlin Chef's Table. My favorites from the menu are the grilled blue prawns, prosciutto salad, Baja baqueta seabass and grilled jumbo asparagus.
Wherever you find yourself, take my advice and find a Rubio's Fresh Mexican Grill to sample the best fish tacos this side of the border. Not into fish? Go for the Street Taco special. Order it to go and take it down to the beach. There is no better food for the money.
If you are going to stay on Mission Bay there is really only one best choice: Paradise Point Resort & Spa (map). It is surrounded on all sides by water (making it an island) accessible only by boat or bridge. Sit out on the lanai of your private residence directly on the beach and watch the sail boats go by. Better, rent a sail boat and be part of the view yourself. Too much to see, do, eat and drink, but try. Then just kick back, relax and enjoy the sunset.
Mission Beach has some interesting choices for staying overnight. If you are traveling with a bunch of people, related or otherwise, you can save a ton of money booking a vacation rental with multiple bedrooms and a kitchen like this ocean-front condo. Units from inexpensive studios to 6 room suites are convenient and easy to rent.
---
Mostly all-day things to do in San Diego:
Mostly half-day things to do in San Diego:
©
™ GoThere Corporation