3. Sea World San Diego itinerary - hotels, things to see and do - sponsored links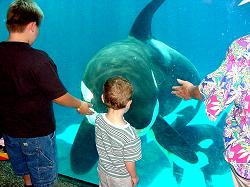 SeaWorld San Diego Discount Tickets

While for many people SeaWorld is an all-day thing to do, you can easily skip some of the shows and head out to one of the many other nearby things to do. If you get your tickets early you can avoid the lines and sometimes find some pretty good discounts. Be sure you pick up the free map and schedule of shows when you come in so that you can better plan your visit.
Visit the UN Official guide to SeaWorld.
Since you do not want to miss the Shamu Show, you might think about going there first, but don't sit in the front row unless you can live with being very wet the rest of the day. (Take a look at the first 15 seconds of this YouTube video of Shamu.) Save it for last then leave wet.
If you want to get up close, and personal and stay dry, sign up for "Breakfast With Shamu." There is an extra cost and you may want to call ahead:(800) 25-SHAMU (press 5). Easier is to just pop in at Plaza Bakery for fresh-baked goods and fruit with lots of toppings.
If you just must get wet, or wetter jump on Shipwreck Rapids. This ride will spin you and splash you along river rapids while you try to find a dry spot on the tropical island. If you just want to watch others get wet, take lunch at Shipwreck Reef Café next to Shipwreck Rapids. Pretty good food too. On the dry side climb aboard a simulated jet helicopter for a wild ride to Base Station Wild Arctic. Can you make it safely before the snowstorm takes you down?
You can also come hand out at Sea World during the my two favorite seasons: Halloween and Christmas. The weekends between the first weekend of October and the first weekend of November inclusive, you can see special Halloween shows and trick-or-treat stations in the park. The weekends between the last weekend of November and the the end of December (but not on Christmas) you can see lights and the holiday night show, meet reindeer and be entertained by carolers.
Discount SeaWorld Tickets & Tours - Map of SeaWorld area - Map of SeaWorld San Diego Park
Hotels near SeaWorld
Book online or call 1-800-632-3303 to speak with a travel expert.
Budget:
| | |
| --- | --- |
| | Holiday Inn Express Sea World is a short drive from SeaWorld. Even on a budget you get a heated outdoor pool and Jacuzzi, and in the rooms a microwave, refrigerator and coffee maker. Each morning enjoy a free continental breakfast to start you on your way. More Hotel Info · Map |
More Upscale:
| | |
| --- | --- |
| | Hilton San Diego Resort is a four-diamond hotel located right on the water on San Diego's Mission Bay, just one mile from SeaWorld. Expect to pay a lot more for a similar Hilton anywhere. This really is a romantic place, under the palms, along the sandy beach and sparkling outdoor pools. Recent renovations make this spot even more of a value. You can rent sailboats, play basketball, tennis and swim. There are many room types to choose from: tower, bay front and villas. More Hotel Info · Map |
Truly Unique:
| | |
| --- | --- |
| | Paradise Point Resort & Spa is just about as San Diego as you can get; situated on a 44 acre island on Mission Bay. Sandy beaches all around; tropical landscaping and spectacular pools and spa services. Play tennis, sand volleyball, golf or rent a sailboat. Enjoy upscale dining at Baleen restaurant; casual fare at Barefoot Bar & Grill; poolside bites and tropical drinks at Tropics Bar & Grill. More Hotel Info · Map · Packages Available! |
---
Mostly all-day things to do in San Diego:
Mostly half-day things to do in San Diego:
©
™ GoThere Corporation