4. Old Town San Diego itinerary - hotels, things to see and do - sponsored links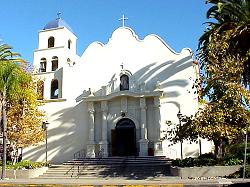 This is where San Diego got its start over 200 years ago; evolving from a Native fishing village to a Spanish Mission outpost to a rough and tumble American frontier town.
Today, touches of all these elements are preserved with the addition of a few modern hotels and upscale eateries. Many historic buildings are open to the public and local historic living history re-enactors bring the early days to life.
Start your day with the flavorful Machaca Plate and an eye-opening Coyote Breakfast Margarita at Cafe Coyote. There are quite a few historic buildings you can visit, all a short walk from one another. Take care as you venture into some of these, Old Town San Diego is one of the most haunted places in America. Don't event think about parking in front of El Campo Santo Cemetery where there are still graves under the street and where parked cars can be hard to start.
By the time lunch rolls around you need to consider one of the many fine Mexican restaurants. My favorite and the most authentic is Casa Guadalajara. Dine in or dine out in one of the outdoor courtyards. Live mariachi bands will play your favorites at your table. Next door are the shops of Bazaar del Mundo where you can buy native handcraft items from south of the border including clothes, furniture, jewelry and house wares. No plastic tourist trinkets here!
If you want to take a 2-hour loop tour of San Diego, the Old Town Trolley starts and stops here. Take a leisurely walk up and down the side streets of Old Town to visit the many art galleries and craft stores. As the sun sets over Old Town, you may want to settle into cozy El Agave Tequileria where 150 different tequila bottles are on the shelf. Try one of the French/Mexican/Aztec appetizers.
For dinner try the house specialty cioppino at Zagarella II at Café Pacifica. This dish contains the best of the sea: fresh clams, mussels, calamari, baby octopus, white fish, shrimp, and a lobster tail, simmered in a white wine and marinara sauce, served on top of a bed of linguine
Photo Tour of Old Town San Diego - Map of the Area - Ghost Tours
Hotels in Old Town San Diego
Book online or call 1-800-632-3303 to speak with a travel expert.
Budget:
| | |
| --- | --- |
| | La Quinta Inn Old Town is right off the freeway and a short walk to Old Town shops and restaurants. It is clean and has a small pool in an enclosed courtyard. Rooms include a microwave and refrigerator & coffee maker and each morning there is a pretty good FREE continental breakfast. More Hotel Info · Map |
More Upscale:
| | |
| --- | --- |
| | Courtyard by Marriott San Diego Old Town offers a complimentary airport shuttle to help you come and go. There is a friendly restaurant open for breakfast and dinner with indoor and patio seating. Parking is not free, but you won't need a car even if you stay more than one night. More Hotel Info · Map |
Truly Unique:
| | |
| --- | --- |
| | Best Western Hacienda Hotel Old Town is located on a hillside with balconies and courtyards overlooking Old Town, San Diego Bay and the Pacific Ocean beyond. The pool area is a great place to watch the sun go down. The street below is San Diego Avenue where many shops and restaurants are located, and across the parking lot is historic Old Town San Diego State Park. More Hotel Info · Map · Packages Available! |
---
Mostly all-day things to do in San Diego:
Mostly half-day things to do in San Diego:
©
™ GoThere Corporation