1. San Diego Zoo itinerary - hotels, things to see and do - sponsored links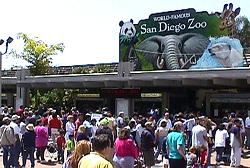 There have been many times that I have spent all day at the San Diego Zoo, but you have to judge how many of the 4,000 rare and endangered animal (and 700,000 exotic plants) you, and your little ones want to see in one visit. Or, decide to just see the Pandas and Koalas.
There are several zoo bus tours to help you see most of it and there is the Skyfari Aerial Tram to get a bird's eye view. Walking will get you up close and personal with the animals, but be warned, the zoo covers 100 acres (40 hectares) with miles of trails.
If you don't line up at your hotel's free breakfast buffet before you go, consider Flamingo Café for powered French toast, fresh juice and coffee. Located just inside the Zoo's entrance.
For lunch, do not miss Albert's. Located in the Treehouse complex next to Gorilla Tropics, Albert's offers great food in an extraordinary atmosphere, including open-air deck seating overlooking a private waterfall. Make reservations when you get to the zoo or call ahead at 619-685-3200. You won't be sorry.
Two shows twice a day you don't want to miss: at 11 and 3 there is the Sea Lion Show - It Began with a Roar featuring performing California Sea Lions; and at Noon and 2 The Wild Ones - Legends & Lore of both predators and prey from around the world.
Even if you don't have children with you, visit the Children's Zoo. A zoo within a zoo with 30 special animal exhibits for the young at heart. The Petting Paddock gets you literally in touch with sheep and goats and who doesn't love the crazy antics of the spider monkeys? The naked mole-rats always get giggles. Oddly, something you will always remember is the the Mouse House. No, not Mickey, real mice who live in specially prepared huge loaf of bread. A fresh loaf is provided for the mouse residents once a week. One of my fondest childhood memories, imagining how it would be to live in a loaf of bread.
Just outside the east exit of the zoo is one of my favorite park attractions: the Balboa Park Miniature Railroad which is now operated by the San Diego Zoo. I remember riding this as a child and it still brings out the child in me each time I ride it. The train pulls out of the station for 3-minute rides that simulate a train ride through San Diego's back country. This is the best $2 you can spend in San Diego.
Discount Zoo Tickets & Tours - Map of the area - PDF map of the zoo
Hotels near the San Diego Zoo
Book online or call 1-800-632-3303 to speak with a travel expert.
Budget:
| | |
| --- | --- |
| | Studio 819 Residential Hotel is located in the heart of the Uptown / Hillcrest neighborhood just a short drive to the zoo. Lots to see and do within walking distance of the hotel like used book stores, Goth clothing stores and neighborhood restaurants. This is a very LGBT-Friendly neighborhood. More Hotel Info · Map |
More Upscale:
| | |
| --- | --- |
| | Park Manor Suites offers 75 spacious studios, one and two bedroom suites at reasonable rates. Don't knock the FREE Deluxe Continental Breakfast each morning in the Penthouse. It overlooks the San Diego skyline, World Famous Balboa Park and the harbor. Now if only you could bed down up there, that would be something. But then you would be paying about ten times the nightly rate and they are LGBT-Friendly! More Hotel Info · Map |
Truly Unique:
| | |
| --- | --- |
| | Britt Scripps Inn a restored Victorian with all the stairs and hallways from your favorite who-done-it. Thankfully they have upgraded the important things like indoor plumbing and high speed internet connection. DO NOT miss the complimentary full American breakfast each morning. But DO leave the soft Ariana bathrobes behind when you leave, unless you can work a deal with the management. Think Karma. Start your walk or jog around the park from the front door. More Hotel Info · Map · Packages Available! |
---
Mostly all-day things to do in San Diego:
Mostly half-day things to do in San Diego:
©
™ GoThere Corporation