5. San Diego Ghost Tour Itinerary - ghosts, graves and spirits - sponsored links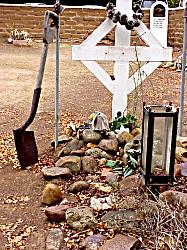 Sometimes you hear San Diego described as the most haunted city in America. This may be disputed, but the number of sites and the frequency of encounters suggest this may be true.
The first stop has to be Old Town San Diego. This is also a good place for a Mexican breakfast at Cafe Coyote. Across the street is the Whaley House which once served as a courthouse is listed by the US Department of Commerce as an authentic haunted house. Daily tours are available here and many visitors have reported the presence of spirits. Just down the street you will find the historic 1849 El Campo Cemetery. Some residents died violent deaths and some are buried outside the wall, under the street. Watch where you step.
Located around the Old Town Plaza you will find four buildings which were homes in days gone by which now serve as restaurants and historic tour destinations: El Fandango Restaurant, Robinson-Rose House, Casa de Bandini and La Casa de Estudillo.
Next, take a drive over the spectacular San Diego-Coronado Bay Bridge to the Hotel del Coronado where you will find one of America's finest beaches and one of its most enduring ghost stories. One tragic suicide by the lovelorn traveler Kate Morgan in 1892 loosed a restless sprit upon the hotel, seen by many guests. Hotel traditions honor her presence and those of other guests who never check out. The Hotel Del is also a great place for lunch, either overlooking the Pacific Ocean or in one of the extravagant wood-paneled dinning rooms.
Back across the bridge, stop in the Gaslamp Quarter District and visit the Horton Grand Hotel, which was once two mid-1800's hotels that were later pushed together and refurbished. Several ghosts came along for the ride and have stayed ever since. The most famous, gambler Rodger A. Whittaker still resides in his favorite room #309 and sometimes plays card tricks on overnight guests. Care to try a hand?
On the other side of Downtown along the water's edge is the 1893 iron-hulled sailing ship, the Star of India. Sailing was a dangerous occupation back then and many sailors lost their lives serving the ship. You don't have to imagine a raging storm-tossed sea to feel the fear. Today you can onboard and below deck to share the fear of spirits still inhabiting the ship.
Across the bay is Point Loma where the 1855 Point Loma Lighthouse is located high on a windy spit of land overlooking San Diego harbor and the navy sea and air operations centers. One of the last keepers of the lighthouse still watches out for the safety of sailors nearby. To get to the lighthouse you have to drive through one of the largest military cemeteries in the nation, Fort Ashley National Cemetery.
If you are still in the mood to eat around the time sun is going down, just go down the hill from the Point Loma Lighthouse, to San Diego's romantic and tropical Bali Hai Restaurant located on Shelter Island. While I was in high school this was THE place to take your prom date. Get a window table with a view and watch the moon come up over the San Diego Skyline. Start with a big ol' tropical drink with an umbrella and pineapple spear stuck in it. This is a local tradition, go with it. Try the Ichiban Ahi appetizer then on to the Huli Huli rubbed Mahi Mahi. Alas, the popular Polynesian floorshow downstairs in the South Pacific Room is no more, so share another round of drinks and use your imagination. That's what this tour is all about.
Sponsored Links
| | |
| --- | --- |
| | For a "hauntingly" good time join our 3 hour Ghostly Limo Tour to some of San Diego's ghostly locations. Hear the lurid tales of murder, bloodlust and prostitution, that left a spectral past. On this ghost tour we travel to 5 or 6 locations each tour night in San Diego, boarding in Old Town, we go aboard a tall ship, slip inside one of the oldest buildings in the Gaslamp Quarter, see a Victorian Mansion or perhaps a romantic and haunted hotel and of course a graveyard or two. Rated PG-13 |
| | Journey off the beaten path to the City's Darker Side as our Theatrical "Ghost Hosts" recount Suspenseful tales of local Folklore for a Fun & Frightful night of Transportation, Information & Entertainment. Disembark, if you dare, for up-close and personal visits to Historic and Documented Haunted Locations; where you'll learn True Tales from San Diego's Past & Present… Including a visit to "Americas Most Haunted Location" |
List of Historic San Diego Hotels
Book online or call 1-800-632-3303 to speak with a travel expert.
Haunted San Diego Hotels on this Itinerary:
| | |
| --- | --- |
| | The Hotel del Coronado since its opening in 1888 has attracted filmmakers, presidents and royalty. A National Historic Landmark, is situated along 31 oceanfront acres on Coronado Island, and is considered one of America's most beautiful resorts. Today, the legend continues to unfold with the recent unveiling of added rooms, restaurants and bars. More Hotel Info · Map · |
| | |
| --- | --- |
| | The Horton Grand Hotel is always ready to welcome you with the special charm and personal service that will make every stay a memorable one. In 1986 two turn of the century hotels were painstakingly rebuilt brick by time-honored brick, in the heart of San Diego's historic Gaslamp District. More Hotel Info · Map |
---
Mostly all-day things to do in San Diego:
Mostly half-day things to do in San Diego:
©
™ GoThere Corporation